HOIST OPERATOR: MODEL H
---
LOGIC 5.0 HOISTED COMMERCIAL DOOR OPERATORS
ARE OPTIMAL FOR INDUSTRIAL APPLICATIONS
These operators include a floor-level chain hoist to ease manual operation in an emergency or power outage. The door operators are typically mounted to the wall when used with larger sectional overhead doors with vertical or high lift and mounted to the wall or the front of the hood when used with rolling doors and grilles. H Operators are attached to the door jackshaft to indirectly dirve the door.
STANDARD FEATURES
- Dual Voltage Connections
- Floor Level Disconnect
- Control function selector dial
- Timer-to-close
- Continuous-duty high-starting torque motor
- Motor removable without affecting limit switch settings
- Adjustable friction clutch
- Mid-stop
- Maximum run timer
- Delay-on-reverse circuit
- 3-Button control station with maintenance alert system (MAS)
- Security+2.0TM Radio Receiver
- Continuous-duty high-starting torque motor with instant reverse and overlod protection
- Operators are factory preset to C2 wiring
- First-stage heavey-duty 5L V-belt: second-third-fourth stages #48chain; #50 output sprocket chain
- Industrial ball bearings on 1" output shaft; heavy-duty oil-filled bushings on reduction shafts
- Brake standard on 3/4 and 1HP operators (optional on 1/2 HP, not available on 1/3 HP
- Left or right hand mounting (must specify at time of order)
- NEMA 1 rated type electrical box, heavy-duty 11-gauge steel frame
- All reduction sprockets drilled and pinned to shafts
- Door speed: 8-9 in. per second
- Approximate shipping weight 110 Lbs.
OVERALL DIMENSIONS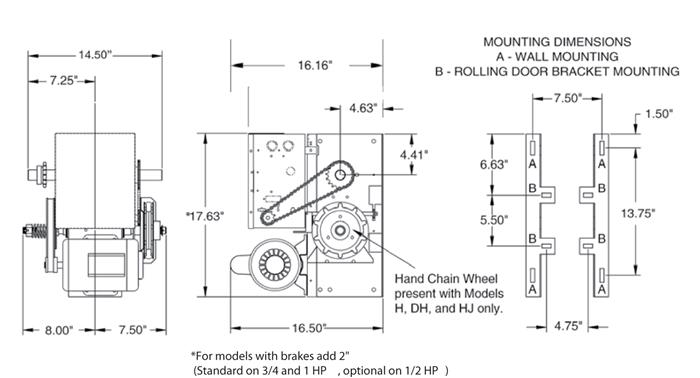 Hoist Operator distributed by LIFTMASTER.